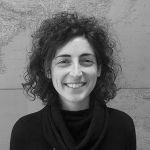 INSTITUTE:

UNU-ViE

OFFICE:

E-MAIL:

dAngelo@vie.unu.edu

NATIONALITY:

Italy
Research Interests
Fundamental Rights
Human Security
Transnational Organized Crime
Education
MSc in Cooperation, Development and Transnational Markets, Faculty of Political Science, University of Turin (Field research for the master thesis at UNDP – Tehran, Iran)
BSc in Media Languages, Faculty of Literature and Philosophy, Catholic University of Sacred Heart of Milan (Erasmus Exchange at the Faculty of Journalism, University Cardenal Herrera of Valencia)
European Consortium for Political Research (ECPR), Summer School on Research Methods, Qualitative data analysis: concepts and approaches & introduction to NVivo 10, Ljubljana – Slovenia
Academy of European Law, Applying Anti-Discrimination Law, Training course, Trier – Germany
UNDP Virtual School, Anti-corruption and Human Development, Online course
Biographical Statement
Elena D'Angelo is currently Research Associate at UNU-ViE SCYCLE. Since she joined the SCYCLE team in 2016, she has been mainly involved in the coordination and research activities of EU funded projects dealing with transnational waste crimes, as well as in research activities dealing with mercury waste and circular economy.
She works as Research coordinator and Senior researcher at the Research center on security and crime (RiSSC) and she is a consultant for UNICRI, where she worked for the past 8 years. Her work is mainly focused on applied research and training for law enforcement and legal professionals. Ms. D'Angelo is the author and co-author of several publications on the following topics: transnational organized crime, environmental crimes, ICT and e-wastes, counterfeiting and anti-discrimination, including hate speech.
Before joining UNICRI, Ms. D'Angelo worked with multiple international organizations and NGOs, both at the institutional level and in the field, dealing with development and gender-related issues.