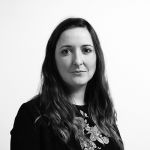 INSTITUTE:

UNU-EGOV

OFFICE:

C1-13, Campus de Couros, Rua de Vila Flor 166, 4810-445 Guimarães, Portugal

E-MAIL:

diana.mesquita@unu.edu

PHONE:

n/a

NATIONALITY:

Portugal
Research Interests
Competencies for Industry 4.0
Innovation in Engineering Education
Project management
Research approaches and method
Training and Professional Development
University-Business Cooperation (UBC)
Education
PhD, Educational Sciences, University of Minho, Portugal (2015)
BA, Education, University of Minho, Portugal (2008)
Appointments
Research Assistant, UNU-EGOV (Portugal)
PhD Collaborator, Centro ALGORITMI, University of Minho (Portugal)
PhD Collaborator, Research Centre on Child Studies, University of Minho (Portugal)
Biographical Statement
Diana Mesquita is currently a Research Assistant at UNU-EGOV. She has been collaborating with research activities at Centro ALGORITMI and Research Centre on Child Studies, both from the University of Minho. She has also developed consultant activities at other organisations, namely at the Universidade Portucalense (UPT), Betweien, Lda., Bright Concept Consulting and Deloitte Portugal.
Her research interests are focused on identifying, developing and evaluating competencies in several contexts: training and professional development, industry 4.0, project management, and engineering education. She has strong experience in training activities (design, development and evaluation) in companies, schools, and higher education institutions. During her academic path, she was involved in several projects carried out in Portugal and abroad (Russia, Tajikistan, Thailand, Chile, Brazil, and Colombia).
Currently, she is a member of the organising committee of the "International Symposium on Project Approaches in Engineering Education" (PAEE) and Active Learning in Engineering Education (ALE). She is also a member of the Portuguese Society for Engineering Education.