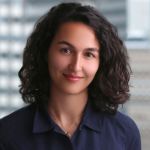 INSTITUTE:

UNU-CPR

E-MAIL:

salih@unu.edu
Research Interests
Peacebuilding
Policymaking
Transitional justice
United Nations system
Biographical Statement
Cale Salih is a Research Officer with the Centre for Policy Research at United Nations University focusing on the changing nature of conflict, UN conflict prevention, and transitional justice.
Ms Salih joined the Centre for Policy Research with extensive experience from her time in think tanks and non-governmental organisations. Most recently, she led a project on violent extremism and transitional justice in partnership with the Institute for Integrated Transitions and supported by the UK Department for International Development; and undertook case study research on UN Resident Coordinator-led conflict prevention in non-mission settings.
Prior to joining the Centre for Policy Research, she was a Project Manager at the Institute for Integrated Transitions in Barcelona, focusing on post-conflict and post-authoritarian transitions in fragile and conflict-affected states. She has also held a number of research positions focused on the Middle East, including with the International Crisis Group, the European Council on Foreign Relations, and Integrity.
Ms Salih has also worked for media outlets including Al-Monitor and The Atlantic, and has published op-eds and reported pieces in, among others, Newsweek, The New York Times, Foreign Affairs, and The Guardian.
Ms Salih has published extensively, including her recent work on The Limits of Punishment: Transitional Justice and Violent Extremism (ed. 2018), What Works in UN Resident Coordinator-Led Conflict Prevention: Case studies of Colombia and Bolivia (2018), Conflict Prevention: A case study of Nepal (2017, with von Einsiedel), Civil War Trends and the Changing Nature of Armed Conflict (2017, with Bosetti, Cockayne, von Einsiedel and Wan), and Navigating International Aid in Transitions: A Guide for Recipients (Institute for Integrated Transitions 2016, with Carothers, Freeman and Templer), among others.
After completing her undergraduate degree from the Woodrow Wilson School of Public International Affairs at Princeton University, she undertook a Master's degree in International Human Rights at Oxford University.