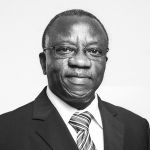 INSTITUTE:

UNU-INRA

OFFICE:

UNU-INRA International Programmes Building Annie Jiage Road University of Ghana, Legon Campus Accra, Ghana

E-MAIL:

ayuk@unu.edu

PHONE:

+233 302-213850. Ext. 6318

NATIONALITY:

Cameroon
Research Interests
Economic of Natural Ressources
Education
Ph.D., Agricultural Economics, Texas A&M University
M.Sc., Agricultural Economics, Texas A&M University
Bachelor Economics, Hamline University
Appointments
International Development Research Centre (IDRC)
Institutional Support for Economic Research in Africa (SISERA/IDRC)
Southern African Development Community-World Agroforestry Centre (SADC-ICRAF)
Rockefeller Foundation
Biographical Statement
Dr Elias Takor Ayuk is the Director of the United Nations University Institute for Natural Resources in Africa (UNU-INRA). He has over 20 years experience in Sub-Saharan Africa on development issues including institutional capacity building, poverty reduction, food security, natural resources management, strategic planning and development funding.
Prior to joining UNU-INRA, Dr Ayuk has served as a Senior Programme Specialist with the Globalization, Growth and Poverty (GGP) programme of the International Development Research Centre (IDRC) at the Regional Office for West and Central Africa, in Dakar, Senegal, from 2004 to 2010. He was responsible for project development, management and monitoring of the IDRC's GGP program in West and Central Africa. He also served as Acting Executive Director of the Secretariat for Institutional Support for Economic Research in Africa (SISERA/IDRC), Dakar, Senegal from 2002 to 2006.
His other previous positions include Regional Senior Policy Economist and Project Leader of the agroforestry research project of the Southern African Development Community-World Agroforestry Centre (SADC-ICRAF) from 1998 to 2002 (Zimbabwe); Regional Policy Economist (1994-1998), of the Semi-Arid Lowlands of West Africa Regional program of the International Centre for Research in Agro forestry, Bamako, Mali; and Regional Economist and Country Representative (1992-1994) of the ICRAF Semi-Arid Lowlands of West Africa Regional Programme in Ouagadougou, Burkina Faso. Dr Ayuk was also a Rockefeller Foundation Visiting Scientist at the International Fertiliser Development Centre – Africa Office in Togo (1990-1991). He has undertaken consultancies for the World Bank's Soil Fertility Initiative and for UNESCO's World Wide Fund for Nature.
He is a member of the editorial board of several international journals including, "Nutrient Cycling in Agro ecosystems" and Sustainability Science. He is also a member of International Foundation of Science Scientific Advisory Committee on Social Sciences, a member of the external reference group for the African Capacity Building Foundation, ACIR Report 2013 on natural resources management, the International Association of Agricultural Economists, the Western Agricultural Economics Association, Southern Agricultural Economics Association and the American Agricultural Economics Association.
Dr Ayuk holds a PhD and MSc in Agricultural Economics, both from Texas A&M University, and a Bachelor degree in Economics from Hamline University of Minnesota, United States of America.