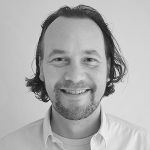 INSTITUTE:

UNU-EHS

E-MAIL:

Hoekstra@ehs.unu.edu

PHONE:

+31-682058790

NATIONALITY:

Dutch
Research Interests
Beyond GDP
inequality
Sustainability
Wellbeing
Education
Phd, Environmental Economics, Free University Amsterdam (2003)
MSc, Environmental Economics, Wageningen University (1998)
Appointments
2019 – Fellow of the Wellbeing Economy Alliance (WEAll) and Our New Economy (ONE)
2019 – Member of the ISWGNA (Intersecretariat Working Group on National Accounts) group which is responsible for the revision of the System of National Accounts (SNA)
2009-2014 – Chair of the Joint UN-ECE/OECD/Eurostat Task Force on Measuring Sustainable Development
2015-2016 – Expert Member on the Dutch parliamentary commission on broader measures of welfare
2015-2016 – Member of the Scientific Program Committee of the Conference of the International Input-output Association
2000 to date – Reviewer for many environmental-economic scientific journals​
Biographical Statement
Rutger Hoekstra has nearly 20 years of experience working on the quantification of value, well-being and sustainability from an academic, government, statistical and business perspectives. He is the author of Replacing GDP by 2030, which is published by Cambridge University Press.
Rutger has worked with/for the United Nations, OECD, World Bank, European Commission, European Central Bank, various ministries, NGO's and large companies to create metrics and policies that prioritize well-being, sustainability and equity. He was the co-chair of the UN-ECE/OECD/Eurostat Task Force which developed the Conference of European Statisticians Recommendations on Measuring Sustainable Development. He has also worked for the Dutch Parliament as an expert for the Commission for Broader Measures of Well-being (Dutch: Commissie Brede Welvaart).
Rutger has lectured at many universities and published numerous publications on sustainable development, natural and human capital, globalization, circular economy, input-output analysis, decomposition analysis and big data applications. He was also Scientific Director of True Value at KPMG-Sustainability where he helped corporate clients measure their social and environmental impacts.