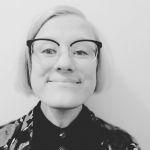 INSTITUTE:

UNU-CS

OFFICE:

Casa Silva Mendes, Estrada do Engenheiro Trigo No 4, Macau SAR, China

E-MAIL:

pawluczuk@unu.edu
Research Interests
Digital and Data Literacy
Digital inclusion
Digital Youth Participation
Impact evaluation
Education
Edinburgh Napier University (PhD in Computer Science; Honours degree in Digital Media Studies)
Biographical Statement
Dr Alicja Pawluczuk is a Young ICTD Fellow at the United Nations University Institute in Macau. Before joining the Institute, she was a Research Associate at the University of Liverpool's project "Me and My Big Data" and Associate Lecturer at the School of Computing Edinburgh Napier University.
Alicja's research and community education practice focuses on digital inclusion, digital, and data literacy. She is the founder of the digital inclusion and digital storytelling collective Digital Beez. Through the use of participatory, critical and multidisciplinary approaches, she aims to examine the power dynamics associated with the digital and data divides. In her doctoral research project, she analysed the social impact evaluation of digital youth participation in Scotland. As a UNU Fellow, she aims to extend this area of carrying out a wider comparative analysis of gender digital inclusion impact evaluation approaches and to co-design a knowledge exchange platform showcasing evaluation practice examples and recommendations.
Alicja's digital inclusion practice is rooted in the areas of democratic education and community development. She has extensive experience in digital inclusion community projects design, facilitation, and evaluation. Both her community engagement practice and her research are characterised by the use of experimental and interactive methodologies. Over the last 10 years, her work has been responding and changing in accordance with the contexts of digitalization of society. Alicja has a track record of peer-reviewed publications, and cross-disciplinary public engagement activities. Both her research and practice are characterised with the use of experimental and creative methods. She has managed and contributed to digital literacy and digital inclusion and learning projects with the United Nations, the Council of Europe, and Erasmus.