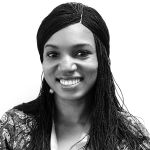 INSTITUTE:

UNU-INRA

OFFICE:

UNU Institute for Natural Resources in Africa, International House, Annie Jiage Road, University of Ghana, Legon Campus, Accra, Ghana

E-MAIL:

obani@unu.edu

NATIONALITY:

Nigeria
Research Interests
Environmental sustainability
Human Rights
Inclusive development
Education
University of Amsterdam, Netherlands
IHE Institute for Water Education, Netherlands
Keele University, United Kingdom
University of Aberdeen, United Kingdom
Nigeria Law School, Nigeria
University of Benin, Nigeria
Appointments
University of Benin, Nigeria
Edwin Clark University, Nigeria
Urban Energies Solutions, United Kingdom
Phoenix Gas Services Ltd, United Kingdom
Ademola Adeniji & Co., Nigeria
Biographical Statement
Dr Pedi Obani is a Research Fellow at the United Nations University Institute for Natural Resources in Africa (UNU-INRA). She is also a Research Fellow with the Earth Systems Governance project.
Her research interests include promoting inclusive development and environmental sustainability, mainly through an analysis of multi-level governance, legal pluralism and the application of transdisciplinary research methodology. She has extensive experience working in multidisciplinary research teams to assess the impact of laws, policies and other regulatory instruments for the governance of human and natural systems.
Prior to joining UNU-INRA, she was employed as a Lecturer in Law in the University of Benin from 2012. In 2019, she also served as an Adjunct Senior Lecturer in Edwin Clark University, Nigeria. Since 2012, she has worked with several regional and international NGOs and government agencies in an advisory capacity on issues of environmental sustainability and social justice. Between 2010 and 2011, she worked in the private energy services sector in the United Kingdom, first in the role of a Project Green intern and subsequently as Operations Manager. She currently sits on the Advisory Board of the Initiative for Equality and is a Member of the Board of Directors for Sustainable TransEnvironment International Foundation and has been invited to deliver the 2019 African Studies Association UK Mary Kingsley Zochonis Lecture.
She has worked extensively on sustainability issues relating to the human rights of water and sanitation, climate change adaptation, and the governance of natural resources in Nigeria. She has also developed a framework for assessing the impact of human rights instruments on social, relational, and ecological inclusiveness. She has over 20 technical and high impact peer reviewed articles and around 10 conference presentations to her credit.
Currently, she is building a framework for assessing the sustainability of personal coping strategies for climate change-induced socio-ecological challenges, based on game theory. She is also involved in curriculum development on Sustainable Development Goal 6 in partnership with the University of Manchester.