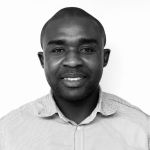 INSTITUTE:

UNU-INRA

OFFICE:

UNU Institute for Natural Resources in Africa, International House, Annie Jiage Road, University of Ghana, Legon Campus, Accra, Ghana

E-MAIL:

amankwaa@unu.edu

NATIONALITY:

Ghana
Research Interests
Environmental governance and public health
Infrastructure, informality, and livelihoods
Education
PhD Geography and Resource Development (Urban Studies), University of Ghana
MPhil Environmental Science, University of Ghana
BA Geography and Resource Development, University of Ghana
Appointments
Postdoctoral Research Fellow, University of Ghana
Postdoctoral Research Fellow, Loughborough University, UK
Research Associate, Loughborough University, UK
Biographical Statement
Dr Ebenezer F. Amankwaa is an urban geographer and Research Fellow at the United Nations University Institute for Natural Resources in Africa (UNU-INRA). He is also a Fellow of the Bosch Pan-African College on Sustainable Cities and a Fellow of the Water Network. Before joining UNU-INRA, he worked as a Postdoctoral Research Associate on the VEWEC project both at the Department of Geography and Resource Development, University of Ghana, and the Department of Geography, Loughborough University, UK.
His research interests span across the fields of social, economic, and development geography with a specific focus on water, sanitation, and energy infrastructure; informality, mobility and livelihood; environmental management; public health; and governance, policy, and planning. He is particularly interested in linking theoretical/conceptual, methodological, and field-based approaches from the social, economic, and developmental perspectives to understand ecosystems and livelihoods of the urban poor in the context of climate change.
Over the past eight years he has had both international and national enriching and rewarding transdisciplinary research experiences which have shaped not only urban policies but also translated into interventions, including establishing a recycling facility in Accra by the Government of Ghana for managing electronic waste. He has 15 peer reviewed articles and numerous technical reports and policy briefs to his credit. His research works have been published in reputable journals including Cities; Science of the Total Environment; Journal of Transport Geography; and Habitat International, among others.