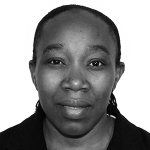 INSTITUTE:

UNU-WIDER

OFFICE:

UNU-WIDER

E-MAIL:

UNU-WIDER Katajanokanlaituri 6 B, FI-00160 Helsinki, Finland

PHONE:

+358-(0)9-615 9911

NATIONALITY:

Nigeria
Research Interests
Development Economics
Economic growth and poverty
Food security
growth
Poverty and Inequality
Biographical Statement
Goodness Aye is a Research Fellow at UNU-WIDER in Pretoria, South Africa. She joined the University of Agriculture, Makurdi, in 2002 as an academic staff member, and later obtained her PhD in agricultural economics from the University of Pretoria, South Africa. Prior to completing her PhD, she worked as a part-time researcher with the African Institute of Economic Modelling (AFRINEM) based at the University of Pretoria.
She also worked as a senior researcher with Plus Economics (Pty) Ltd, Pretoria. At both AFRINEM and Plus Economics, she was involved in developing macroeconomic models, and using these to forecast South Africa's national and provincial economy. After her PhD, she received University of Pretoria-based research fellowship awards which enabled her work on the analysis and forecasting of macroeconomic variables in South Africa and beyond.
Dr Aye conducts research aimed at promoting economic policies for enhanced economic growth and development, reduced poverty, inequality, and food insecurity. She has over 100 publications that cut across economic and agricultural policy analysis, development economics, energy economics, environmental economics, financial markets, and applied econometrics. She is an Editor and a Reviewer for several reputable peer-reviewed journals.