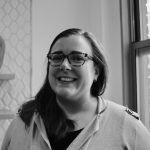 INSTITUTE:

UNU-CPR

OFFICE:

Alliance 8.7 Knowledge Platform

E-MAIL:

enica@unu.edu
Research Interests
Modern Slavery
Policy analysis
Social Stratification
Biographical Statement
Otilia Enica is a Research Assistant on the Alliance 8.7 Knowledge Platform within the United Nations University's Centre for Policy Research.
Prior to joining UNU in February 2018, Ms Enica worked as a research assistant on European migration and integration policies, conducting policy analyses of Sweden and Norway. As a graduate student at the Josef Korbel School of International Studies at the University of Denver, Ms Enica held positions with the Human Trafficking Center (HTC) as Research Associate and later acting Graduate Director. As an intern with the Colorado Legal Services' Human Trafficking Project, she provided expertise on modern slavery and international human rights law to legal advocates.
Ms Enica holds a Master's in International Human Rights from the Josef Korbel School of International Studies and a Certificate in International Law and Human Rights in conjunction with the Sturm College of Law. She earned her Bachelor of Science in Psychology from the University of North Carolina at Chapel Hill. She is a native speaker of English and Swedish.