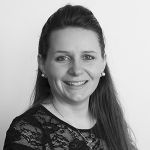 INSTITUTE:

UNU-ViE

OFFICE:

E-MAIL:

forti@vie.unu.edu

PHONE:

+49 228 815 0271

NATIONALITY:

Italy
Research Interests
natural resource management
Technology
Waste management
Education
MSc, Environmental Engineering (LM-35), University of Bologna (UNIBO), School of Engineering ad Architecture, Department of Civil, Chemical, Environmental and Materials Engineering, Bologna, Italy
BSc in Civil and Environmental Engineering (L-7) Polytechnic University of Marche, Faculty of Engineering, Ancona, Italy
Appointments
April 2017 – to date: Programme Associate in UNU-ViE-SCYCLE, Bonn
January 2015 – August 2016: Tutor for the internationalization in the School of Engineering and Architecture, Bologna
April - May 2016: Internship at the company NE Nomisma Energia S.R.L., Bologna, ItalyApril - May 2016: Internship at the company NE Nomisma Energia S.R.L., Bologna, Italy
March - April 2014: Stage – voluntary work: project "Think Green, Act Green" at the NGO "Tunisia Recyclage" and AIESEC University, Tunis, Tunisia
Biographical Statement
Vanessa Forti joined the SCYCLE Programme hosted by United Nations University (Vice-Rectorate in Europe) to work on e-waste related research projects, which aim to quantify both global and regional e-waste amounts and problems both in developed and in developing countries. She has contributed to the 2017 edition of the Global E-waste Monitor that provide the most comprehensive overview of global e-waste amounts of e-waste generated and recycled. She is also member of the Task Group on Mesuring e-Waste which aim to help countries produce e-waste statistics and to build a global e-waste database to track developments over time. She is recently involved in conducting capacity building workshops in developing countries on e-waste management and statistics in cooperation with key international organizations or United Nations institutes. The ultimate goal is to help developing countries to produce reliable and comparable e-waste statistics and identify best practices of global e-waste management.
Ms Forti graduated in 2017 with a Master's degree in Environmental Engineering from Università di Bologna (Italy). She also holds a Bachelor's degree in Civil and Environmental Engineering from Università Politecnica delle Marche (UNIVPM). During her studies, she spent a semester at the University of Trondheim in Norway (NTNU) to deepen her knowledge in the themes of Resources and Recycling, renewable energies, CO2 storage and life cycle analysis. She also spent six months in the Netherlands at Delft University of Technology, researching a new value based resource efficiency indicator to measure the progress of Circular Economy.
In addition to her studies, Ms Forti has completed internships in Bologna where her main area of focus was developing waste to energy technologies in emerging countries. In addition, she volunteered for a Tunisian NGO "Tunisia Recyclage", she supported the NGO with the designing of a more efficient waste management system in Tunis. She was also involved with awareness raising activities around environmental issues among the population and in secondary schools.
She is passionate about solving environmental issues, designing sustainable waste management systems, developing innovative technologies and supporting the responsible sourcing of primary resources. She has a particular interest in carrying out these activities in an international context and in helping developing countries in addressing their environmental emergencies.