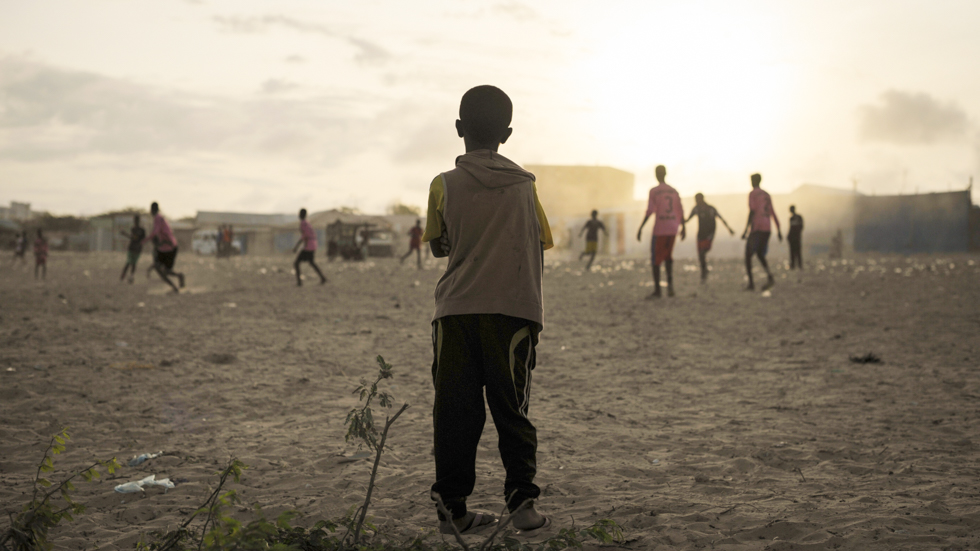 Photo: UN Photo / Tobin Jones
Children and Extreme Violence
The Recruitment and Use of Children by Non-state Armed Groups in Contemporary Conflict
---
In today's civil conflicts, children are being coerced, recruited, and used by non-state armed groups at alarming rates. Children are increasingly being used for extreme violence, including to conduct suicide attacks and perform executions. The extent and depth of the trauma children suffer at the hands of non-state armed groups, or within their ranks, threatens to create a lost generation in parts of Syria, Iraq, Mali and Nigeria. The scale of this tragedy demands our attention — and our response. What should that be? Is the international community's approach to prevention and release and reintegration programming for children effective in these contexts, or does it require adjustments? Are there programming gaps that need to be filled? Are new approaches required?
The United Nations University (UNU), in collaboration with UNICEF, the Department of Peacekeeping Operations, and Luxembourg and Switzerland, is running a research initiative to fill key knowledge gaps about child recruitment and use by non-state armed groups (NSAGs) in contemporary armed conflicts, including those groups characterised as "violent extremist"; and about factors that impede child release from such groups. The goal of this project is to use the empirical findings of the research to inform programmatic guidance for actors in the field working to prevent the recruitment and use of children by contemporary NSAGs, and to effectively disengage children from such groups.
The research initiative combines extensive outreach and rigorous research methodologies, including extensive consultations with experts and practitioners, a wide-ranging desk review, original field research, three conflict case studies (Mali, Syria/Iraq, Nigeria), and legal analysis. The project is expected to produce several outputs: three 'State of Research' Briefs; an edited volume analysing how and why children become associated with, used by, and exit NSAGs in contemporary conflict; and programmatic guidance, informed by the project's empirical findings, to assist practitioners in their efforts to design and implement effective prevention and release/reintegration programmes for children.
CRADLED BY CONFLICT: CHILD INVOLVEMENT WITH ARMED GROUPS IN CONTEMPORARY CONFLICT
---
This edited volume analyses the evidence for how and why children become associated with, used by, and exit armed groups and considers how the international community can improve its efforts to prevent and respond to child recruitment. The volume specifically addresses the widely held assumption that there is something exceptional about the nature of contemporary conflicts and the armed groups fighting in them that requires unique policy and programmatic responses.
The volume presents analysis based on original case study research, extensive interviews with key stakeholders, focus group discussions, and survey work. In each case study, a scrupulous effort was made to engage children and youth to understand their experiences.
DOWNLOAD THE EDITED VOLUME
---
IMPLICATIONS FOR PROGRAMMING
---
This Technical Note aims to inform the design and implementation of programming to prevent and address the recruitment and use of children by armed groups in today's conflicts. It focuses on the programmatic implications of six key findings identified by the UNU-led research collaboration. The technical note is based on extensive consultations with practitioners. It was designed to supplement, not replace, existing programming tools and guidance.
DOWNLOAD THE TECHNICAL NOTE
---
THE 'STATE OF RESEARCH' BRIEF SERIES
---
As part of the desk review process, and in an effort to complement the existing literature on child soldiers and armed groups, UNU held three research workshops to draw from the empirical knowledge base, lessons learned, and analytical approaches used in other fields and bodies of research.
Drawing from the workshops, UNU has produced a series of briefs that are intended to:

• provide a review of rigorous empirical findings, points of consensus, and areas of practice and innovations from across disciplines and fields
• analyse how these findings/practices might inform our understanding of child trajectories into and out of NSAGs, particularly those that employ extreme violence
DOWNLOAD THE BRIEFS
---
Social Science
UNU hosted a meeting of social scientists — including political scientists; sociologists; social, developmental, and clinical psychologists; and anthropologists — to examine the empirical evidence on the causes of political violence and how and why children become associated with, used by, and leave NSAGs.
Criminology
UNU hosted academics and practitioners to discuss how research on engagement with gangs and criminal offenders and related prevention, disengagement, and desistence interventions may inform our understanding of child recruitment and use by, and exit from, non-state armed groups.
Brand Marketing
UNU brought together academics in communications and psychology; practitioners in brand creation, marketing, and cause campaigns; social media experts and practitioners; entertainment content creators; and experts on non-state armed groups, among others to apply a brand marketing lens to analysing NSAGs. This workshop examined whether this approach offers additional analytical leverage for understanding NSAG branding, recruitment typologies, and communications, and how they impact children's perceptions and decision-making.
CONTACT
Dr Siobhan O'Neil
Project Lead
Children and Extreme Violence
United Nations University
Email: oneil@unu.edu