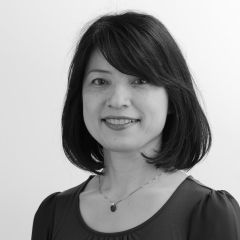 Rie Hayafune is the Special Assistant to the Senior Vice-Rector, for whom she provides administrative support, among others.
Before joining the Office of the Rector, Rie worked for other UNU institutes and offices at UNU headquarters, including the UNU Institute for the Advanced Study of Sustainability (UNU-IAS), the Programme Support Unit, and the Office of Communications. In these roles, she provided a range of administrative and operational support to researchers and institutes, and was responsible for the Japanese version of the UNU web magazine, Our World.
Rie holds an MA in Development Economics from the Graduate School of Public and International Affairs at the University of Pittsburgh, and a BA in Political Science from Keio University. Her previous professional experience was in the finance sector as an M&A advisor at the former Bank of Tokyo-Mitsubishi, and as a financial analyst at Nomura Asset Management.