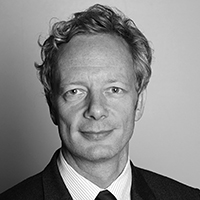 Sebastian von Einsiedel is the Vice-Rector-in-Europe, who succeeded Prof. Jakob Rhyner as Vice-Rector in Europe in November 2018.
Prior to assuming his current post, Mr. von Einsiedel served as founding Director of the United Nations University Centre for Policy Research in Tokyo from its inception in 2014 to 2018. Under his leadership, UNU-CPR established itself as a go-to think within the UN system contributing ideas and research to major UN policy debates.
Before joining UN University, he served in the Policy Planning Unit of the UN Department of Political Affairs, where he was at the forefront of UN policy development related to conflict prevention since 2009. In 2013, he was also a Non-Resident Fellow with the Center on International Cooperation at New York University.
Mr von Einsiedel first joined the United Nations in 2004, when he was appointed to the research staff of the UN Secretary-General's High-level Panel on Threats, Challenges, and Change. He then joined the Secretary-General's team to work on the preparation of the 2005 World Summit. He subsequently served in the Political Affairs Unit of the United Nations Mission to Nepal, supporting the peace process in that country. In 2008–2009, he was a member of the UN Secretary-General's Strategic Planning Unit working on, inter alia, terrorism-related issues.
Mr von Einsiedel has also worked with the New York-based International Peace Academy (now International Peace Institute) as Special Assistant to the President and as Senior Program Officer of its State-Building Program. He has published widely on multilateral security issues and is co-editor of two books: The UN Security Council in the 21st Century (Lynne Rienner Publishers, 2016) and Nepal in Transition: From People's War to Fragile Peace (Cambridge University Press, 2012).
Mr von Einsiedel holds Master's degrees from Columbia University and Ludwig-Maximilians University in Munich.
He is married and has two children.