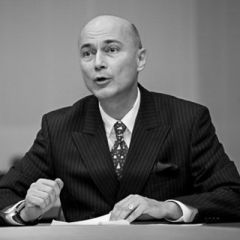 Dr François d'Artagnan is the Director of Administration at the United Nations University.
Prior to joining UNU in June 2002, Dr d'Artagnan served as Deputy Director for Finance with the Organization for Security and Co-operation in Europe (OSCE).
He had earlier served with the United Nations Development Programme (UNDP) in various positions: Deputy Resident Representative (Progamme and Operations), Fiji; Assistant Resident Representative (Programme), Afghanistan; and Programme Management Officer/Junior Professional Officer, Fiji.
Dr d'Artagnan served as Coordinator of Provincial Financial Control/Financial Controller of National Treasury with the United Nations Transitional Authority in Cambodia (UNTAC), and as Expert in Treasury and Public Finance Accounting with the Ministry of Economy and Finance of Cambodia under a World Bank (IDA) funded project.
He graduated from l'Ecole Supérieure de Commerce de Paris and from l'Institut d'Etudes Politiques de Paris; holds a Diplôme d'Etat de Docteur en Chirurgie Dentaire from l'Université de Bordeaux II; studied at Johns Hopkins University's School of Advanced International Studies (SAIS); and attended the Harvard's Kennedy School of Government Executive Programme on Corruption Control and Organizational Integrity.