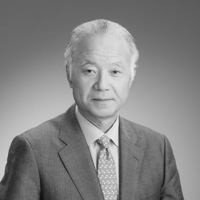 Kazuhiko Takeuchi is Senior Vice-Rector of the United Nations University, and Director and Professor of the Integrated Research System for Sustainability Science (IR3S) at the University of Tokyo. He has served, inter alia, as a member of the Science Council of Japan, as vice-chairman of the Food, Agriculture and Rural Area Policies Council, Government of Japan, and as Editor-in-Chief of the journal Sustainability Science (Springer).
Educated and trained as a geographer and landscape ecologist at the University of Tokyo, Vice-Rector Takeuchi engages in research and education on creating eco-friendly environments for a harmonious coexistence of people and nature, especially focusing on Asia and Africa. He leads the Satoyama Initiative as well as climate/ecosystem change research in Asia and Africa.
His recent publications include "Rebuilding the Relationship between People and Nature: The Satoyama Initiative" (Ecological Research, 25, 891-897, 2010), "Sustainability: Engaging in Global Change through Harmonious Adaptation in Asia" (co-authored, Nova Acta Leopoldina, NF112, Nr. 384, 213-226, 2010), Sustainability Science: A Multidisciplinary Approach (co-edited, UNU Press, 2011), Satoyama-Satoumi Ecosystems and Human Well-Being: Socio-Ecological Production Landscapes of Japan (co-edited, UNU Press, 2012), and "Using Sustainability Science to Analyse Social–Ecological Restoration in NE Japan after the Great Earthquake and Tsunami of 2011" (co-authored, Sustainability Science 9: 513-526, 2014).