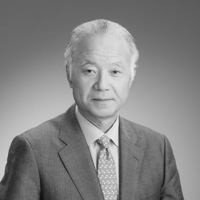 Prof. Kazuhiko Takeuchi serves as Senior Vice-Rector of UNU.
He was appointed Assistant Secretary-General of the United Nations on 1 January 2013.
Prof. Takeuchi concurrently serves as Director and Professor of the Integrated Research System for Sustainability Science (IR3S) and was formerly a Professor at the Graduate School of Agricultural and Life Sciences at the University of Tokyo. He is Editor-in-Chief of the journal Sustainability Science (Springer) and a member of the Food, Agriculture and Rural Area Policies Council of the Government of Japan.
Senior Vice-Rector Takeuchi is the President of the Central Environment Council (Japan) and has served as the President of the Japanese Institute of Landscape Architecture.
Educated and trained as a geographer and landscape ecologist at the University of Tokyo, he engages in research and education on creating eco-friendly environments for the harmonious coexistence of people and nature, focusing especially on Asia and Africa. He is keenly interested in the restoration of ecosystems and the effective utilization of environmental resources in Japan (an example being the revitalization of traditional rural landscapes, which are locally called satoyama).
His recent publications include Satoyama—Traditional Rural Landscape of Japan (co-edited, Springer, 2003), "Rebuilding the Relationship Between People and Nature: The Satoyama Initiative" (Ecological Research, 25:891-897, 2010) and Sustainability Science (co-edited, UNU Press, 2011).